Latest 5 topics

The Swill is back for its second Fringe Festival with three terrific plays.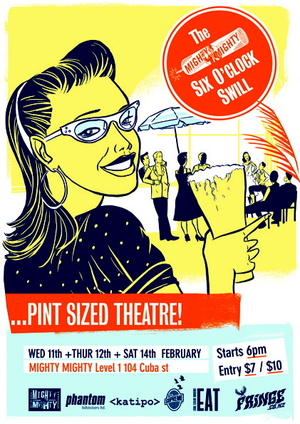 Ron Bobby Had Too Big a Heart by Rolin Jones
Amy and Anya are pissed; Cindy Dillingham got voted Prom Queen. And Ron Bobby has been unfaithful. What to do, what to do. Oh, what's that on your prom dress Amy?
With Emma Barnett, Mia Gaudin and Jackie Shaw. Directed by Phil Darkins
The Magic and the Mercury by Rolin Jones
Joe is depressed and itching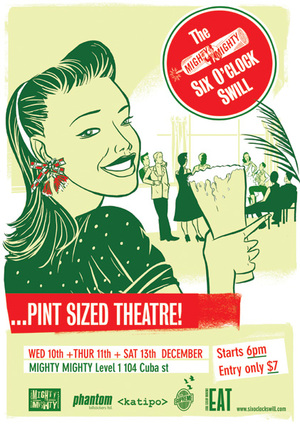 The Six O'clock Swill is an exciting seasonal series of plays held at The Mighty Mighty, where two new one act plays are presented for your entertainment - all for the bargain price of $7.
INVITATION TO A FUNERAL
Written by Julia McKee (NZ)
Directed by Phil Peleton
Before his expiration date, a deadbeat ex-hippie sent a memo to his former wives inviting them to his funeral, and two of the women on the rather long list happen to meet at the open-coffin viewing. Let the dirt fly!
Starring: Jane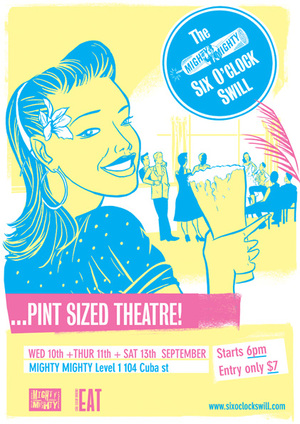 September means spring, sunshine (hopefully!) and the Six O'clock Swill!
The Swill is back with three nights of pint sized theatre for your viewing pleasure...
The Lineup:
OH PLEASE WON'T YOU DO THE DISHES?
Directed by Steve Wrigley
Written by Lucy Edwards
Developed by Lucy Edwards and Jessica Mannis
Cast:
The Director - Jennifer Thompson
Tammy/John - Jessica Manins
Sarah/Rachel - Lucy Edwards
A new comedy directed by Steve Wrigley and Written by Lucy Edwards exclusively for the (new and improved) Six O'clock Swill! An actor's nightmare...two actresses find themselves cast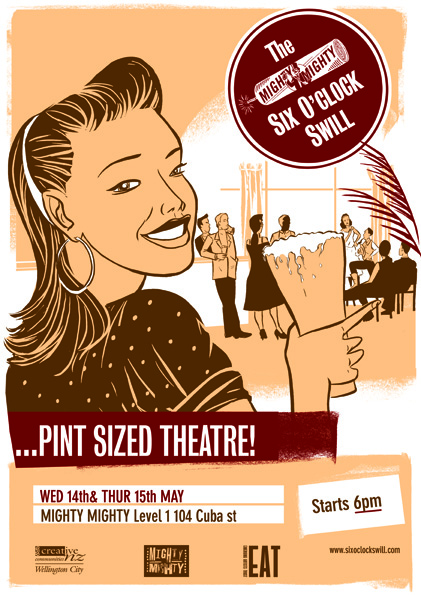 Two nights:
Wednesday 14 May 6pm
Thursday 15 May 6pm

The lineup:

SURE THING by David Ives (USA)
Directed by Nathan Green

A man and a woman meet for the first time in a cafe, where they have an awkward meeting continually reset each time they say the wrong thing, until, finally, they connect.

Cast:
Mel Dodge - Betty
David Allen - Bill

IF I SAID YOU HAD A HEAVENLY BODY by Andre Surridge (NZ)
Directed by Rodney Bane

What are the job opportunities like on the 'other side?' "If

After a very successful series as part of the New Zealand Fringe Festival in February, the Swill returns this month with more hilarious, quirky action at the Mighty Mighty.
The lineup:
Six O'clock Swill
Wed 12 & Thu 13 March, 6pm Mighty Mighty.
Listeners by Jane Martin (USA)
Directed by Gene Alexander
Breaking and Entering by Dean Hewison (NZ)
Directed by Dean Hewison
Magnum: The Lost Episodes
Episodes 9 & 10.